Ever tried making a cocktail of some sort when you were still a student, or on that first job, and disappointed by the results?
It's likely because you didn't have a proper bar tools set for the best homemade cocktails.
A full barware or bartending set, which includes everything you need to make a cocktail that packs a punch.
Well, at least everything in terms of tools – you'll have to practice your techniques on your own.
Typically a barware set has the following: a paring knife for chopping up garnishes, cocktail shaker, a strainer, a jigger or peg measure, a muddler to draw out flavors by gently bashing ingredients and a cocktail spoon.
It may sound like a lot of things, but once you start making cocktails you'll realize that each of these has a very specific purpose.
Best Bar Tool Sets For The Money
Barware Set Buying Guide
Apart from taking care of all your bartending needs, a full barware set is also a great idea because it makes your bar look like one that belongs to a connoisseur, not a college kid trying to impress their buddies.
A well-picked, elegant looking barware set is always a better option than buying individual components – for one, it will give your bar a look that is effortlessly put-together, and it will cost you a lot less than spending separately on different bar tools.
So then, how do you pick the right barware set?
What must a barware set include – what is absolutely necessary, and what can you afford to leave behind?
Most importantly, how do you choose a barware set according to your needs? Read on to find out.
Number of Pieces
Barware sets can have anywhere between 4 to 12 or more pieces.
The most basic components of any barware set would be the jigger, shaker and strainer, and some barware sets go all out with including various mixing spoons, muddlers and a mixing glass.
This is an important consideration to make, as the number of pieces in a barware set can determine its price.
Do you mix cocktails frequently?
Do you make complex cocktails that need a lot of muddling and stirring, or are you more of a pour-shake-pour bartender?
Once you've figured this out, select a barware set with the right number of pieces.
If classic, simple cocktails are your game, then you will be perfectly alright with a basic set, but if you pride yourself on being a mixologist in the making, you might want to get your hands on a more complex set.
Quality
One of the many reasons even professional bartenders sometimes don't buy full bartending sets is that there is a slight risk that not all components are of high-quality.
This isn't particularly true – if you end up buying a barware set without understanding its features and material properly, you could find yourself holding a fancy-looking set that actually corrodes at the slightest chilling, or has flimsy bar spoons that are no good.
The key to buying a good barware set is to always look for a product that includes high-quality components, such as stainless steel shakers and spoons, sturdy strainers and mixing glasses made of superior glass.
Best Barware Set Reviews
Now that you know exactly what to look out for while buying a barware set, here are few options you might want to look at.
Mixologist World Bar Set
At an affordable price, this barware set from Mixologist World is perfect for you if you're a home mixologist.
With a stainless steel cobbler cocktail shaker (which has an inbuilt strainer), a sturdy but elegant mixing spoon and a double-size jigger, all your cocktail-mixing needs are taken care of.
We earn a commission if you make a purchase, at no additional cost to you.
Verdict
For the price it comes at, this barware set is a steal.
Sure, you'll only be able to make shaken cocktails with it but you can always improvise with any sturdy glass, since you get a great mixing spoon with this set anyway.
An absolute buy if you're someone who wants to start making cocktails regularly and wants a top-quality barware set that's also easy on the pocket.
Barillio Cocktail Shaker Set
This is another great barware set for those who want a high-quality addition to their bar without spending a lot.
In addition to the basic components, it comes with two liquor pourers as well as a muddler, so you can really take your cocktails to the next level.
We earn a commission if you make a purchase, at no additional cost to you.
Verdict
At the current cost, this barware set is a fantastic buy.
Not only will it come in handy when you're just starting out as a bartender, you'll also be able to use it once you have moved on to slightly more complicated recipes that involve muddling, as well as for when you want to make that fancy-looking drink with swirls of liquor floating about.
Oggi Bar Tool Set
This one here is a set that is straight out of a bartender's dream. Not only is the cocktail shaker a Boston-style one, (much more preferred than a cobbler-style shaker) it also comes with a paring knife, bottle opener, cocktail strainer, stirrer and ice tongs. Once you've handled these elegant, fine-looking pieces made of stainless steel and black accents, you won't look elsewhere.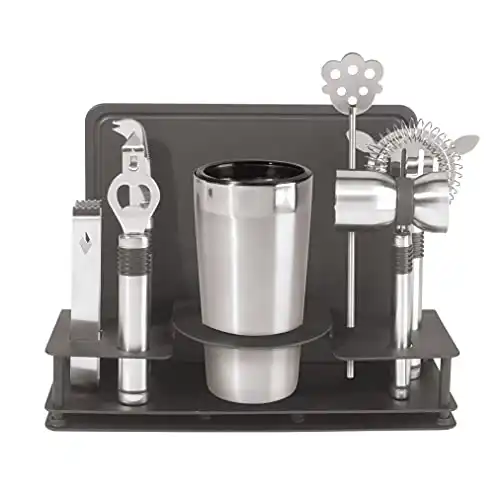 We earn a commission if you make a purchase, at no additional cost to you.
Verdict
At the current price, this barware set from Oggi is definitely priced much steeper than the other sets on this list, but it is definitely a great option for those who take their bartending seriously.
For one, the Boston-style shaker is much more reliable than a cobbler shaker and the paring knife is a useful little tool to have. I
f you plan on making stirred cocktails, however, you'll need to buy a mixing glass and spoon, so keep that in mind.
Final Word
With a proper barware set, you're going to have a lot of fun mixing cocktails.
Your guests are surely going to be pleased as punch, and your bar is going to be the center of attention, not just for that one party, but for evenings to come.
It's time to set the bar higher, for yourself, and your guests.
top image credit: NikiLitov (Deposit Photos)