A high-quality wine key is an essential accessory when it comes to opening bottles of wine, especially if you are a bartender, a sommelier or a server.
Honestly, I also prefer to use a wine key at home.
Wine keys are simple tools that are compact, as well as portable and with a little bit of practice, it can be used efficiently to open a wine bottle.
The graceful motion associated while opening a bottle of wine with a wine key also adds to the fine dining experience at a restaurant or you could bring this experience straight to your home!
Best Wine Keys For The Money
Things to Look for When Buying a Wine Key
There are several options of wine keys available on the market; however, here are some of the things that a server should consider before buying one for their daily use.
Ergonomic Design and Comfort
The wine key or the waiter's corkscrew must have an ergonomic design that makes the handling of the tool very easy and comfortable.
It should be easy on the wrist, fingers and hands.
The corkscrew should also have a sleek design that allows it to be easily kept in the pants, vest or apron pocket.
Design of the Worm
Usually, a restaurant sells several different types of wines and stock hundreds of bottles and hence, you will require a wine key that has a worm which can screw into various materials and sizes of corks effectively.
The worm should also be sufficiently wide to grip the cork properly and it also should not be so wide that it shreds the cork.
Durability
The wine key should be sturdy and durable and since it will be put through a lot of extensive use, it should be able to withstand the usage and not break easily.
Most of the wine keys are made of high-quality stainless-steel, which makes them quite durable and also easy to clean.
Cost
The price of the corkscrew should be affordable as most hoteliers do not really want to spend a lot on daily essentials.
While the price of the corkscrew should not be too high, at the same time, it should also not be so cheap that the quality suffers and you have broken corkscrews to replace often.
Extras
You could consider buying a corkscrew that has additional tools inbuilt that make them multifunctional such as a foil cutter, bottle opener, opener for canned beverages, etc.
These days, corkscrew models are sleek in their construction, are handmade, have customized grips and have chroming which add to the aesthetics of the wine key.
We will be reviewing some of the best wine keys for professional use and we hope that it will help you make a decision on the one that's best for you.
Waiters Corkscrew by HiCoup
The versatile Waiters Corkscrew by HiCoup is a professional-grade waiters key that is multi-functional and can be used for opening bottles, as well as cutting foil.
This elegant looking corkscrew made of 420 stainless-steel with a beautiful rosewood handle offers a nice solid balanced feel when you hold it.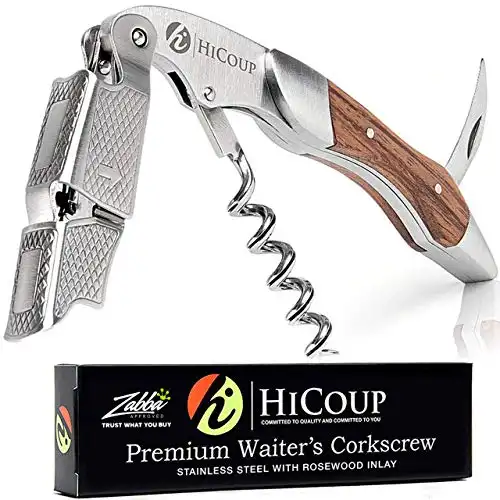 We earn a commission if you make a purchase, at no additional cost to you.
The corkscrew has a user-friendly design and is very durable too.
The HiCoup Waiters Corkscrew is worm-engineered and features a groove that improves the grip and minimizes the crumbling of the cork.
HiCoup guarantees that the wine key can remove any cork, natural or synthetic, in just 5 turns or less. The corkscrew can also screw into dry cork very easily.
The corkscrew is equipped with a double-hinged lever which helps to keep the corkscrew straight while you extract the last portion of the cork and enables you to pull out the longest of the corks effortlessly.
The corkscrew also has a foil cutter that can remove all types of foils and eliminates the need to buy any other tool for this.
The best part is that the HiCoup Waiters Corkscrew is backed by a 100% free lifetime warranty and you also get a free replacement or a 100% money back if you are not satisfied with the product or in case of any manufacturing defect.
Verdict
The sommelier-inspired and beautifully crafted HiCoup Waiters Corkscrew is a versatile and multifunctional corkscrew which combines various functions of a bottle opener, a wine corkscrew and a foil cutter, all in one tool.
A drawback of the corkscrew is that the foil knife is difficult to open, which can be sorted with just a few drops of oil on the hinges.
Overall, this is a great wine key to have in your arsenal if you're a professional waiter and its affordable price makes it a complete value for money buy.
Waiters Corkscrew by Gitko
If you're looking for the best waiters' corkscrew for your money, then the Gitko Waiters Corkscrew is an ideal choice.
The 3-in-1 corkscrew is a single solution that works as a bottle opener, a foil cutter and a wine corkscrew.
We earn a commission if you make a purchase, at no additional cost to you.
The heavy-duty construction of the corkscrew, made of 420 stainless-steel with a wooden grip, makes it ideal for any hectic work environment that requires extensive use of the corkscrew and it can handle any kind of cork or metal cap effortlessly.
The construction also makes the corkscrew sturdy, durable and offers excellent balance.
The corkscrew's compact and sleek design makes it ideal to keep in your pocket or drawer.
The worm of the corkscrew features an inline groove, which allows you to cut through the cork smoothly and remove it without any squeaking.
The double-hinge lever provides extra leverage and allows you to remove the cork very easily without destroying or bending the cork.
The Gitko Waiters Corkscrew comes with a lifetime warranty and if there is any manufacturing defect or you are not happy with the product for some reason, the company will refund your entire amount, no questions asked.
Verdict
The Gitko Waiters Corkscrew is an excellent tool that lets you handle your duties as a waiter or professional sommelier in style and without any awkward pulling and tugging to get the cork off.
The elegantly designed corkscrew is also a great gift that anyone would love to receive along with a bottle of wine.
The Gitko corkscrew is indeed a great tool for professional use by waiters, bartenders and sommeliers or for use at home.
Professional Waiters Corkscrew by Barvivo
If you're looking for a sturdy corkscrew that is also cost-effective, then the Barvivo Professional Waiters Corkscrew is an excellent option.
Ideal for bartenders and waiters, the corkscrew can open your wine bottles like a pro.
Made of high-grade stainless steel, the corkscrew is very durable and is sure to last you for many years.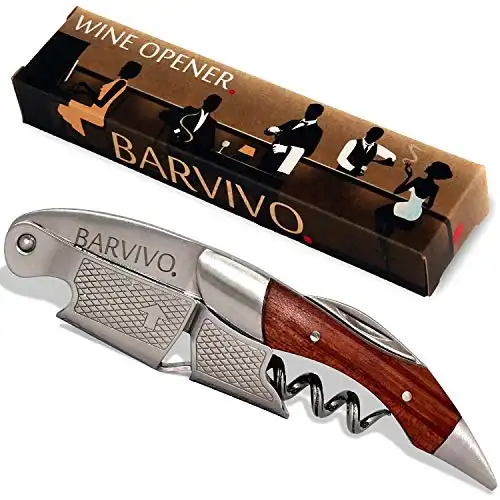 We earn a commission if you make a purchase, at no additional cost to you.
The beautiful rosewood handle adds to the stylish looks of the corkscrew.
The corkscrew features a double-hinged lever and the worm is Teflon coated, which makes the removal of longest of the corks extremely easy and prevents the cork from crumbling.
The Barvivo corkscrew also has an in-built bottle opener and a foil cutter that is serrated and allows the foil to be removed easily and the serration makes the foil cutter safer.
The corkscrew is well-balanced and easy to operate.
The manufacturer offers a 100% satisfaction guarantee on the Barvivo corkscrew and in case you are not happy with your purchase or there is any manufacturing defect, the manufacturer will replace the product free of cost or give you a full refund of your money.
Verdict
The Barvivo Professional Waiters Corkscrew has a user-friendly design and in terms of the price, it is quite affordable too.
The corkscrew is quite versatile and can be used to open bottles of any kind, irrespective of whether it is a wine bottle, bottles with caps or beverage cans.
Final Word
If you are a waiter, sommelier or bartender and your work involves serving your guests wine, the entire process of opening the wine and pouring it out elegantly without fumbling and struggling to pull the cork out is all part of the fine dining experience.
And, to do this you require an efficient and high-quality wine key that lets you open the wine bottles with style and ease.
With so many options of wine keys available, the choice of the right one may be difficult.
Going through our buying guide can help to make the process of selecting the perfect wine corkscrew for your professional use much easier.
top image: VickyRandom (Deposit Photos)