Whether you're hosting a lazy summer brunch, or entertaining friends on a weekend evening, mixing up interesting cocktails will up your hosting game by several notches.
It's one thing to be in college and use a makeshift bar set with beer mugs and spoons and something else for a strainer.
At any point after that, it's time to upgrade and mix those cocktails with the respect they deserve – in a proper cocktail shaker.
While you'll find a whole lot of cheap mixing glasses and shakers, it's important to pick something that's classy and useful.
Best Cocktail Shakers for Home Bartending
There's a lot that a good cocktail shaker can do for your cocktail, including vigorously mixing up the flavors, releasing the aromatic compounds from fruits and spices and giving your cocktail a well-balanced, rounded taste.
Even if you aren't an expert mixologist, you'll be able to tell apart a good cocktail from bad.
Even if you've followed a recipe to the T, you could be still using the wrong shaker, or a poor quality one, which affects how your cocktail tastes eventually.
One of the best ways to make sure you pour a delicious cocktail each and every time, is to invest in a great cocktail shaker.
There are lots of options out there, from minimalist stainless steel to vintage copper pieces, but it's important to know what makes that cocktail shaker good on the inside as well as outside.
What Does a Cocktail Shaker Do?
A cocktail shaker is the most basic of bar tools, and the tool of trade for any bartender.
Cocktails are usually either shaken, or stirred.
Typically, cocktails that have mixers – juices, milk, eggs etc. are shaken with ice, and then strained out into a glass to be garnished and served.
Essentially, a cocktail shaker blends all the different flavors, spirits and mixers, as well as chills your cocktail, also aerating it to give you a richer, smoother taste.
While these are the basics of a cocktail shaker, it could vary depending on the type of cocktail shaker you're using.
Boston vs. Cobbler Style Cocktail Shakers
The two kinds of cocktail shakers you'll see are the Boston and cobbler styles.
The Boston Style is clearly a favorite with professional bartenders.
It has a large and small cup that fit together.
Cobbler-style shakers are more commonly found at home bars, and have three pieces – a canister or container, lid and a strainer.
Bartenders aren't too fond of this style of shaker since they aren't leakproof and often cause spills, particularly during vigorous shaking.
Cocktail Shaker Reviews
A Bar Above Boston Cocktail Shaker Set
Designed to be durable enough for a high-volume bar but perfect for any home bartender, this shaker set is ideal for any bar. Made of food-grade stainless steel, it will not break like similar sets made with glass, and will not rust or drip.
This piece has been hand-selected and tested by a professional career bartender to ensure a perfect watertight seal every time. It also fits all standard cocktail strainers and is dishwasher-friendly.
A Bar Above Boston Cocktail Shaker Set – 2-Piece Weighted & Unweighted Boston Shaker Set
Professional Bartender's Choice: Created by a career bartender, this cocktail shaker set bartender kit has 2 antique copper shaker tins to create the perfect cocktails! Our drink shaker set includes...
Made to Last a Lifetime: We've spared no expense making a bar shaker set that will last a lifetime! These cocktail shakers are made with heavy, food-grade stainless steel 304 with a polished antique...
Weighted & Unweighted Bar Shaker Set: Tough enough for both high-volume and home bars alike, our cocktail shakers seal tightly and open easily, but only when you want them to. The unweighted Margarita...
Prepare Lots of Cocktails: Use our drink shakers cocktail vessels to make endless types of drinks. Our ice shaker cocktail mixer set makes delicious Margaritas, Daiquiris, Whiskey Sours, and Espresso...
Speed & Style: Our bartender tools will withstand years of use and abuse, even in the busiest bar. So if you're going to mix a cocktail, make sure to use our trusty mix drink shaker kit. Our cocktail...
We earn a commission if you make a purchase, at no additional cost to you.
Verdict
At the listed price, it is a great buy, and perfect for larger parties since you can shake two cocktails in one go.
True, you might need some muscle work to get the two parts to open, particularly if you're shaking up a really chilled cocktail, but the watertight seal will make sure you don't end up spilling even a drop and your bar remains mess-free.
OXO Steel Cocktail Shaker (Cobbler Style)
With its sleek lines, soft curves and brushed stainless steel finish, this is definitely a stylish cocktail shaker, perfectly suited to an elegant, minimalist bar.
Not only is it stylish, it is also a solid piece of barware with its double wall construction, built-in strainer and jigger cap with soft grip.
OXO Steel Cocktail Shaker
18 oz Shaker includes a Jigger cap and built-in strainer
Double wall stainless steel construction for insulation
Soft, non-slip grip
1 oz, 3/4 oz and 1/2 oz Jigger measurement markings
Elegant brushed stainless steel construction
We earn a commission if you make a purchase, at no additional cost to you.
Verdict
This is a great product to consider if you're looking for a stylish addition to your bar.
With no leaks and drips, and the in-built strainer, this cocktail shaker makes everything from mixing to pouring a breeze.
If you're looking to mix more than one portion of a cocktail at once, though, this one might be too small, so consider that before you make up your mind.
Cresimo Bartending Boston Shaker Set (2pc)
Made of food-grade stainless steel, this copper shaker is designed to make sure that it will not bend or warp, making it perfect for vigorous shaking and large parties.
The two shaker tins are designed perfectly to fit each other to offer great water-tight seal, perfect for shaking cocktails like Mojitos and Margaritas.
The cocktail strainer is designed for professional use, equipped with high-density spring, keeping ice fragments or fruit pulp from making their way into your drinks.
Cresimo Bartending Boston Shaker Set (2pc)
Mix and Create Delicious Cocktails Like Any Bartender - This 2 piece Boston Shaker Set is essential for any drink made with alcohol. It is 100% necessary for any beginner or professional to have this...
Premium Stainless Steel Quality And Design - This Boston Cocktail Shaker Set is made of high-quality 18/8 grade stainless steel with an elegant mirror finish. This bar shaker set includes bartender...
Essential For Flavorful Drinks - Making drinks with this Boston Shaker Cocktail Set is easy as 1 - 2- 3. Bartending does not have to be hard and this drink mixer set has everything you need to create...
Fits Together Perfectly - Both Boston Shakers are built to perfectly fit together and go together like tequila and lime. It is guaranteed not to rust or leak no matter how hard you shake or strain....
Low Maintenance Guaranteed - This stainless steel Boston Shaker Set is designed with stainless steel that guarantees easy clean up. After each use simply put your Boston Shaker Set in your dishwasher...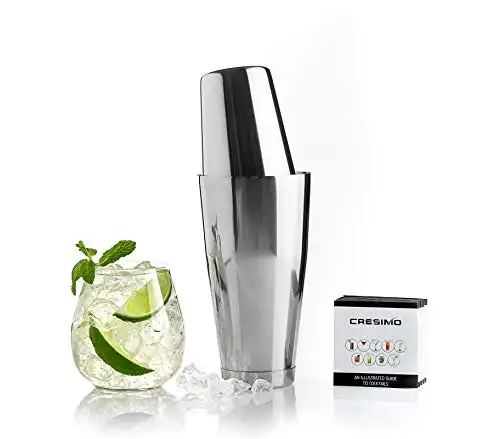 We earn a commission if you make a purchase, at no additional cost to you.
Verdict
This stunning-looking cocktail shaker is a great addition to any bar, and is guaranteed to impress your guests.
Don't forget to pair it with a set of equally elegant looking glasses, and you can be sure your guests will remember not just your cocktail-mixing skills, but also your taste in all things classy.
With a great cocktail shaker, there's no limit to the kind of cocktails you can whip up for your guests – from the classics to the absolutely adventurous combinations.
So go on, give it a try, and raise a toast to your guests as they indulge in your tipsy concoctions.
top image credit: santypan (Deposit Photos)