We're about to dive into a coffee clash that's as epic as espresso vs. drip: Peet's Coffee vs. Starbucks.
In one corner, you've got Peet's, the OG dark roast rebel that kicked off the artisan coffee movement.
And in the other? The global java juggernaut known for its green siren and venti-sized influence–Starbucks.
Over the years, my life's pretty much been a caffeine-fueled roller coaster, riding from the old-school coffeehouses to the bustling urban cafes.
I've swirled, sipped, and sometimes spilled, enough coffee to fill a swimming pool (not even exaggerating).
So, are you Team Peet's, devoted to the depth and richness of every cup?
Or are you waving the Starbucks flag, seduced by its global charm and seasonal specials?
Either way, by the end of this brew battle, you'll know the ins, outs, and all the steamy details of both.
Get ready for a tale of two coffees, and may the best bean win!
Company Profiles
Starbucks Origins
Starbucks, a household name even outside the coffee industry, was established in 1971 in Seattle, Washington.
What began as a single store selling roasted coffee beans has grown exponentially to over 30,000 stores worldwide, with more than half in the United States.
Starbucks is not just a prominent name in the coffee business but also has a significant presence in the industries of travel, leisure, and restaurants.
It generates a revenue of around $10 billion, reflecting its popularity and widespread reach.
Peet's Coffee Origins
Founded by Alfred Peet in 1966, Peet's Coffee has a more humble beginning compared to Starbucks.
With its first store in Berkeley, California, it was the pioneer of the concept of specialty coffee in the United States.
Today, Peet's Coffee has over 300 stores across the US and around 100 additional stores worldwide.
It belongs to the foods and beverages industry with a current total revenue ranging between $1 billion and $5 billion.
Despite being smaller in scale, Peet's Coffee has maintained a strong foothold in the market.
While both brands are famous for their coffee, they differ in their approaches and flavors.
Peet's Coffee is known for its dark roast beans and intense, bitter taste, whereas Starbucks offers a lighter roast with a smoother, sweeter flavor profile.
Coffee Offerings
Starbucks Coffee Variety
At Starbucks, you can find a wide variety of coffees to suit your preferences.
Their offerings include drip coffee, espresso beverages, and several roast levels.
The coffee beans are sourced from different regions globally, providing a diverse lineup:
Dark Roasts: Bold and robust, these options include the Sumatra and Italian Roast blends – ideal for those who prefer intense and smoky flavors.
Medium Roasts: This balanced range features the popular Pike Place Roast and Guatemala Antigua, perfect for everyday enjoyment.
Light Roasts: Highlighting bright and mellow flavors, these options include Veranda Blend and Ethiopia Single Origin, which are perfect for those who like delicate and nuanced notes.
Starbucks also offers a selection of Blonde Roasts, which are lighter and milder, catering to those who prefer a gentler taste in their coffee.
Their blends and single-origin offerings showcase a well-rounded coffee variety that meets diverse preferences.
Peet's Coffee Variety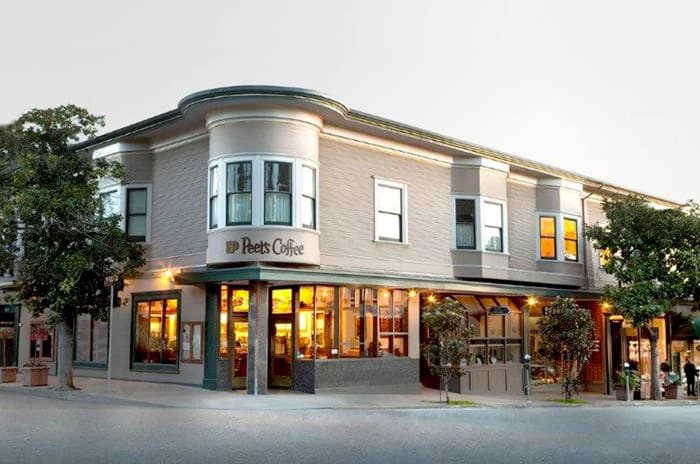 Peet's Coffee is known for its quality coffee and its commitment to being a coffee roaster that delivers unique and distinctive taste profiles.
They offer a range of roasts, from light to dark, and both blends and single-origin options:
Dark Roasts: Fans of intense and full-bodied flavors can choose options like the Major Dickason's Blend or French Roast, which are characterized by their bold richness.
Medium Roasts: Celebrating balanced and smooth profiles, Peet's medium roasts include Big Bang and Colombia Luminosa – enjoyable for a wide array of coffee drinkers.
Light Roasts: Those who appreciate fruity and floral nuances can opt for the Brazil Minas Naturais or Ethiopian Supernatural, which showcase the origin's unique characteristics.
In addition to these offerings, Peet's Coffee provides limited-release and reserve options for those seeking exclusive and rare beans, appealing to true coffee connoisseurs.
Taste and Flavor Profile
Taste of Starbucks
Starbucks is well-known for its variety of flavors and taste profiles.
Their coffee tends to have a strong, bold taste with a distinct bitterness.
You can expect a range of flavors from their classic dark roasts to smoother, lighter options.
Bitter taste: Starbucks is known for its dark roasts, which often have a noticeable bitterness. This comes from their specific roasting process and the high-quality beans they source.
Unique flavor: Starbucks offers a wide variety of flavored drinks, making it easy for you to find something that caters to your taste preference. They also offer seasonal flavors, like their famous Pumpkin Spice Latte, allowing you to experiment with new tastes throughout the year.
Starbucks Ground Coffee—Medium Roast—Pike Place Roast—1 bag (28 oz)
PREMIUM GROUND COFFEE—Starbucks delivers exceptional coffee cup after cup with this 28-ounce bag of Pike Place Roast medium roast ground coffee
STARBUCKS PIKE PLACE ROAST COFFEE—A smooth, well-rounded blend of Latin American coffees with subtly rich notes of cocoa and rich praline, it's perfect for every day
FRESH TASTE—Starbucks adheres to the highest quality standards—shipping you the same carefully roasted 100% arabica coffee beans we brew in our cafés
MAKE IT YOUR OWN—Whether you like black coffee or adding cream and sugar, Starbucks Coffee is carefully ground to be ideal for a variety of brewing methods, including drip brewer, coffee press, pour-over and moka pot
ETHICALLY SOURCED—Starbucks is committed to 100% ethical coffee sourcing in partnership with Conservation International
We earn a commission if you make a purchase, at no additional cost to you.
Taste of Peet's Coffee
Peet's Coffee has a reputation for its strong and bold coffee flavors, offering a rich and robust taste in every cup.
Many people appreciate the unique aroma and full-bodied flavor of Peet's Coffee.
Strength: Peet's Coffee is known for its strong, punchy coffee options, perfect for those who enjoy an intense flavor profile. Their roasts are designed to bring out the best qualities of the beans, making for a full-flavored experience.
Aroma: One noticeable difference between Starbucks and Peet's Coffee is the enticing aroma at a Peet's Coffee shop. Their coffee releases a pleasant, rich fragrance that lingers in the air and tempts you towards their brews.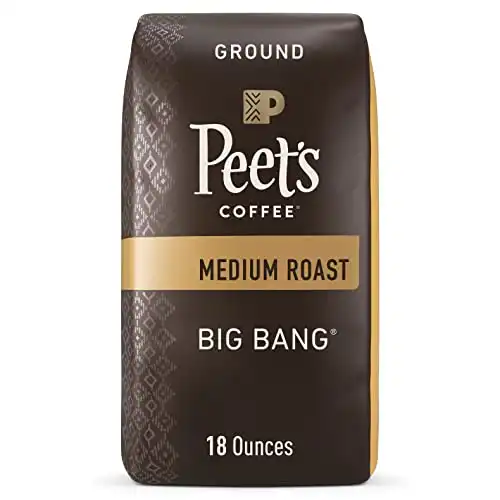 We earn a commission if you make a purchase, at no additional cost to you.
Product Range
Starbucks Menu
At Starbucks, you have a wide range of drinks to choose from.
You'll never feel limited with their variety of lattes, cappuccinos, teas, and other hot and cold beverages.
They offer different sizes like tall, grande, and venti to accommodate your preference.
An example of their size range is the popular Iced Caramel Macchiato, which comes in all three sizes.
Their menu doesn't stop at drinks; they also serve tasty pastries. Starbucks' food menu includes a selection of sandwiches, breakfast items, and healthy snacks.
If you're a fan of instant coffee, Starbucks got you covered with their K-Cups line and other various instant coffee options.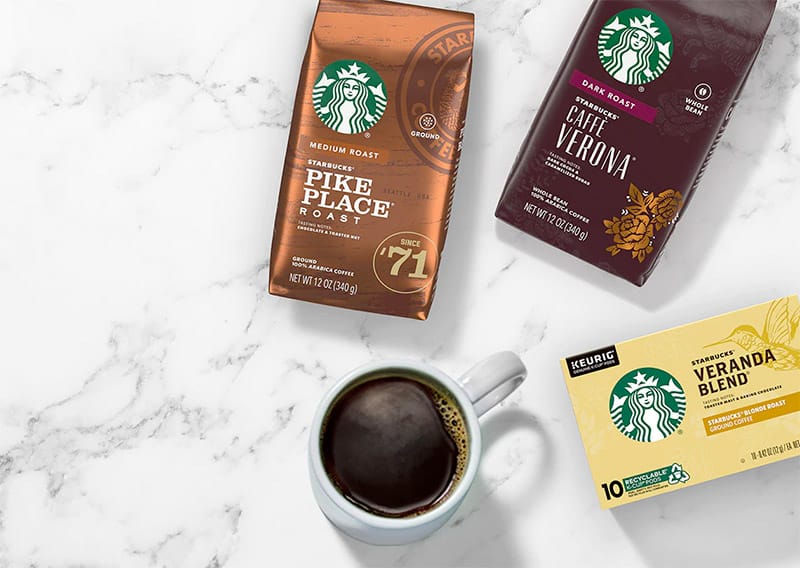 Some popular options at Starbucks include:
Lattes: Pumpkin Spice, Caramel, Chai Tea
Cappuccinos: Espresso, Cinnamon Dolce
Teas: Green Tea Latte, Iced Peach Green Tea, London Fog Tea Latte
Instant Coffee: VIA Instant Coffee, K-Cups, Verismo Pods
Pastries: Blueberry Scone, Chocolate Croissant, Banana Bread
Peet's Coffee Menu
Peet's Coffee also offers a diverse selection of drinks and sizes to choose from.
Just like Starbucks, they have unique lattes, cappuccinos, and various teas available in different sizes.
Peet's also offers a delicious assortment of pastries to accompany your beverage.
While Peet's might not be as mainstream as Starbucks, they still provide a well-crafted menu.
If you're looking for a more distinct yet quality coffee experience, Peet's got you covered.
Here are some noteworthy items you can find at Peet's Coffee:
Lattes: Honey Lavender Latte, Vanilla, Golden Spice
Cappuccinos: Traditional, Almond Milk, Coconut Milk
Teas: Chai Latte, Matcha Green Tea, Jasmine Fancy
Instant Coffee: Baridi Cold Brew, House Blend, Major Dickason's Blend
Pastries: Raspberry Ricotta Ring, Chocolate Chip Cookie, Fruit Cup
Experience and Atmosphere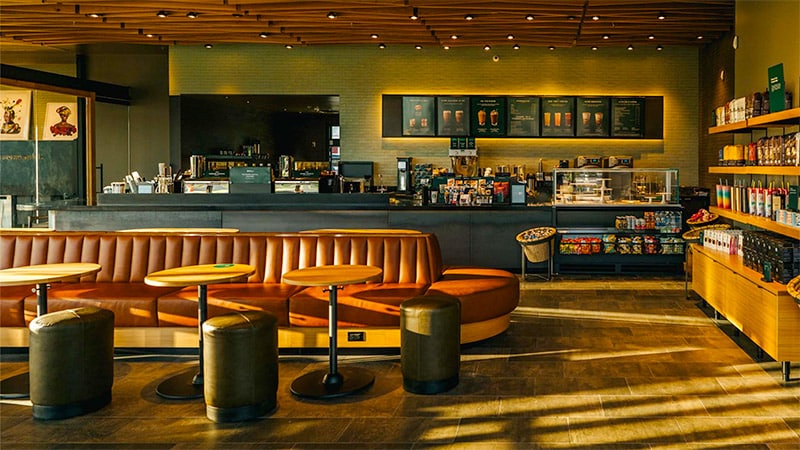 Starbucks Atmosphere
When you walk into a Starbucks, you notice a fast-paced atmosphere catering to people on the go.
From the wide range of beverages, food, and merchandise, this well-known coffee house has become a favorite spot for many to grab a cup of joe, work on a laptop, or simply pass time before their next meeting.
The design of Starbucks typically features modern elements, with comfortable seating options, and these coffee houses are commonly found in convenient locations within city centers, shopping malls, and transportation hubs.
Peet's Coffee Atmosphere
On the other hand, stepping into a Peet's Coffee offers a distinct experience – one that leans more towards a relaxed and leisurely vibe.
The focus at Peet's is on the customers enjoying their coffee in the establishment, rather than a grab-and-go mentality.
With a strong emphasis on serving a unique and diverse selection of coffee blends and flavor profiles, Peet's Coffee has carved out a niche for itself among discerning coffee lovers.
Their locations often feature a more traditional design, with cozy spaces for conversation or contemplation, giving you a sense of comfort and warmth.
As you can see, the experience and atmosphere at Starbucks and Peet's Coffee differ significantly, catering to different tastes and preferences.
While Starbucks offers a modern, fast-paced environment with an expansive range of products, Peet's Coffee provides a more serene and intimate atmosphere, with a focus on quality and variety in their coffee offerings.
The choice between the two comes down to your personal preference and the kind of environment that suits your needs best.
Pricing and Value
When it comes to comparing the prices and value of Starbucks and Peet's Coffee, you'll find some similarities and differences.
Pricing can vary based on location, but let's dive into the general prices you can expect from each coffee chain.
Starbucks Pricing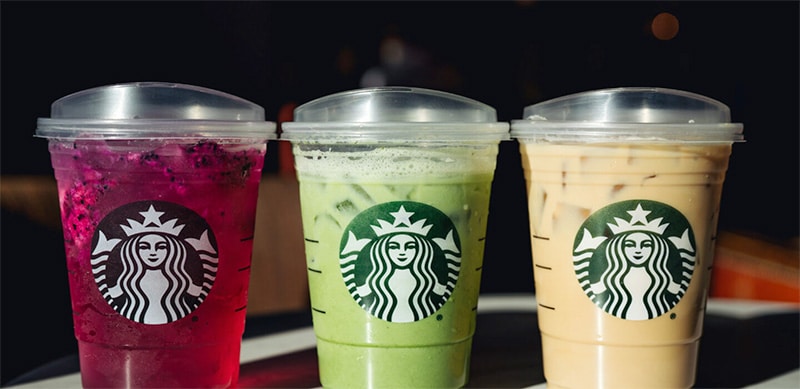 At Starbucks, you can find a range of pricing options for their beverages, depending on the size and complexity of the drink.
Here's a rough breakdown of what you might expect:
Espresso & Drip Coffee: $1.95-$2.95
Regular Lattes & Cappuccinos: $3.45-$4.65
Frappuccinos & Specialty Drinks: $4.45-$5.45
Teas & Refreshers: $2.65-$3.45
Starbucks also offers a variety of food items, like breakfast sandwiches, bakery items, and snack packs, with prices generally ranging from $2.00 to $7.00.
In terms of value, Starbucks is known for their extensive beverage menu, loyalty programs, and seasonal promotions.
Peet's Coffee Pricing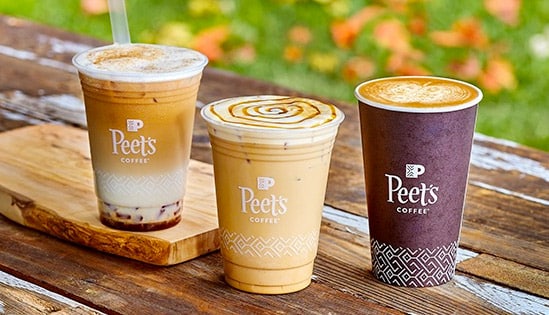 Peet's Coffee generally has competitive prices in comparison to Starbucks, with some items being more affordable and others slightly more expensive.
Here's a general idea of the pricing at Peet's Coffee:
Espresso & Drip Coffee: $1.95-$2.95
Regular Lattes & Cappuccinos: $3.60-$4.70
Cold Brew & Specialty Drinks: $3.50-$4.50
Teas & Refreshers: $2.00-$3.00
Food options are also available at Peet's, including breakfast sandwiches, pastries, and salads.
Prices range between $2.00 and $7.00, similar to Starbucks.
Peet's Coffee focuses on their high-quality coffee beans and strong, bold flavors, so you may find the value in their commitment to premium coffee options.
Brand Perception
Starbucks Brand Perception
When you think of a popular coffee chain, Starbucks probably comes to mind.
With its widespread presence, Starbucks has become a go-to spot for many coffee-lovers.
Their branding is undeniably strong, and as a result, they enjoy a prominent position in the global coffee market.
The iconic green mermaid logo has become synonymous with quality coffee and a comfortable environment to enjoy it in.
Starbucks is known for its diverse menu, offering a wide range of beverages and snacks, which is updated seasonally.
Additionally, their loyalty program, Starbucks Rewards, has proven successful in retaining customers and encouraging repeat visits.
This combination of branding, product offerings, and customer engagement has helped cement Starbucks as a leader in the coffee chain industry.
Peet's Coffee Brand Perception
Peet's Coffee, on the other hand, may not have the same global recognition as Starbucks, but they have a passionate and dedicated following.
Founded in Berkeley, California in 1966, Peet's Coffee has been introducing dark-roasted coffee beans to its customers for decades – long before Starbucks' inception.
This unique roasting style sets them apart from other coffee chains and attracts those looking for more robust and bold coffee flavors.
Peet's Coffee prides itself on selecting high-quality beans and maintaining strict roasting standards, which is a selling point for many customers who appreciate their commitment to quality.
Their locations often feature a cozy, leisurely atmosphere, encouraging patrons to enjoy their coffee in a comfortable environment.
In terms of branding, Peet's Coffee may not have the same widespread recognition as Starbucks, but they foster a strong connection with their loyal customers who appreciate their dedication to great-tasting coffee.
Each Peet's location embodies a sense of community and commitment to sustainable business practices, further endearing the brand to its fans.
Coffee Preparation
In this section, we'll take a look at the coffee preparation methods used by Starbucks and Peet's Coffee.
We'll delve into their brewing techniques and explore the differences between the two.
Starbucks Brewing Techniques
At Starbucks, you'll find a variety of coffee brewing methods, ensuring that there's something for everyone.
Some of the most popular methods include:
Pour Over: This manual brewing technique involves pouring hot water over coffee grounds placed in a filter, allowing the water to pass through the grounds and produce a clean, flavorful coffee. It's a great option if you're looking for a balanced and consistent taste.
French Press: Also known as a Press Pot, this method involves steeping coarse coffee grounds in hot water for a few minutes before pressing a plunger to separate the grounds from the brewed coffee. With the French Press, you'll get a strong, bold, and full-bodied cup.
Drip Coffee: One of the most common methods, drip coffee machines use a paper filter to hold coffee grounds while hot water is poured over them. The brewed coffee drips down into a carafe or individual cup. Perfect for those on the go or for making larger quantities of coffee at once.
Peet's Coffee Preparation Methods
Peet's Coffee also offers a range of brewing techniques to cater to varying coffee preferences.
Some noteworthy methods include:
Pour Over: Similar to Starbucks, Peet's Coffee also uses the Pour Over method. This technique highlights the nuances of each coffee bean, creating a smooth and distinct cup.
French Press: At Peet's Coffee, you can also opt for the French Press method, which delivers a rich, full-bodied brew. It's an excellent choice for those who appreciate a stronger coffee with more character.
Espresso: While not mentioned specifically among the brewing methods requested, it's important to note that Peet's Coffee also offers expertly crafted espresso beverages. These drinks, made with a high-pressure extraction method, allow you to appreciate the coffee's essence, intensity, and flavor concentration.
These brewing techniques offered by Starbucks and Peet's Coffee give you options to suit your individual taste.
While both companies provide Pour Over and French Press methods, their approach to these techniques might vary. Don't hesitate to experiment and find the perfect cup that suits your preferences.
Sustainability Practices
Starbucks Sustainability Initiatives
Starbucks has been taking steps to become more environmentally friendly.
In 2020, the company committed to a resource-positive future, with goals to cut its carbon, water, and waste footprints by half1.
They have also introduced an online "Greener Apron" course on sustainability and environmental stewardship, with more than 18,000 partners enrolled in the last two years2.
While Starbucks has made some progress, there's still room for improvement.
For example, you might consider their "Grounds for Your Garden" program, where they provide free used coffee grounds for composting1.
But some critics argue that the company's waste reduction efforts need to be scaled up.
Peet's Coffee and the Environment
Peet's Coffee, on the other hand, seems to be taking steps towards better sustainability practices.
They have introduced a completely vegan Everything Plant-Based Sandwich, which indicates their commitment to offering more eco-friendly and plant-based menu options3.
This not only caters to those with dietary restrictions but also positively contributes to the environment, as the production of plant-based foods generates fewer greenhouse gas emissions3.
While both Starbucks and Peet's Coffee are working towards becoming more environmentally responsible, it's up to you to weigh their initiatives and make an informed decision about which coffee chain aligns with your values regarding waste, industry sustainability, and environmentally friendly practices.
Business Model and Ownership
Starbucks Business Model
Starbucks, founded by Jerry Baldwin, Gordon Bowker, and Zev Siegl in 1971, has grown to become the world's largest coffee chain.
Their business model revolves around offering a wide variety of beverages, including coffee, tea, and smoothies, as well as food items, such as pastries, sandwiches, and salads.
Your experience at Starbucks is characterized by a consistent, comfortable atmosphere across their thousands of locations.
They also focus on innovative technology, allowing you to order and pay using their mobile app, making it a smooth process for you.
Peet's Coffee's Business Model
Alfred Peet founded Peet's Coffee in 1966, and it has since flourished as an ultra-premium coffee roaster with a loyal following.
Initially focused on selling dark roasted coffee beans, Peet's has evolved its business model to include coffee shops and grocery store distribution of their ground coffee.
When you visit a Peet's Coffee location, you are likely to experience a strong emphasis on quality and craftsmanship.
Peet's Coffee was previously owned by KKR, a private equity firm, before being acquired by JAB Holding Company in 2012.
JAB Holding Company has played a significant role in the expansion and success of Peet's Coffee, as they own several other popular coffee brands, providing them with the experience and resources needed for growth.
Both Starbucks and Peet's Coffee have distinct business models, focusing on different aspects of the coffee experience.
They each continue to evolve with market trends and consumer preferences, maintaining their positions as prominent coffee chains.
So depending on your personal preferences, either Starbucks or Peet's Coffee can offer you a unique and enjoyable experience, even though they operate under different ownership and maintain different priorities in their business models.