A well-functioning WDT (Weiss Distribution Technique) tool can make all the difference when it comes to ensuring a tasty cuppa.
It's a popular manual method among espresso enthusiasts to break up clumps and ensure an even distribution of coffee grounds in the portafilter basket.
The thin wires of the tool are used to rake the grounds before tamping, which breaks up clumps that can be left behind from your grinder.
Why do you need this? Because if you leave those clumpy grounds untouched, those pesky clumps end up causing these little uneven pockets or gaps in the tamped coffee bed.
You don't want that to happen cause it leads to channeling and spurting during extraction.
And here's the thing – channeling and spurting ends up making a big ole mess, but the worst part is that these are indications that your coffee is being extracted unevenly.
And that's how you get undesirable flavors in your cup.
When used correctly, a WDT tool can help ensure that your grounds are consistent, clump free, and are extracting all of the lovely flavors your coffee has to offer.
Best WDT Espresso Tools for Home Barista
We've compiled a list of the best WDT tools available for you to make your espresso drinks tastier and more barista-like at home. Discover your ideal tool from our selection below.
WISSXOER WDT Tool
Editor's Pick
WISSXOER WDT tool
【Thinner 10+10 Needles】This WDT Tool includes 10 needles installed are made of food safe stainless steel and 0.35mm in diameter, the perfect size to break up coffee clumps.At the same time, we will give you an additional 10 needles, which are convenient for you to disassemble and replace
【Needle Removable as you like】Unlike many other Espreeso WDT tools out there, this espresso distribution tool can be easily loaded/unloaded, you can adapt and left with 4/5/6/7/8 needles in if that works for you.
【Excellent Material】 The Espresso distributor tool is made of Aluminum alloy, both handle and stand. You can drop the WDT Tool into the stand for the next use, which can keep your espresso station clean and tidy. Delicate matte surface that does not make any impurities fall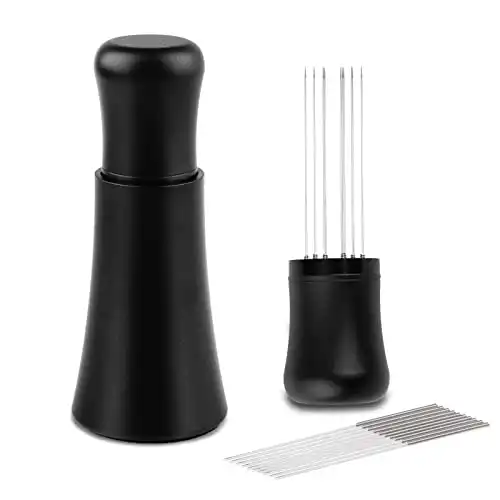 We earn a commission if you make a purchase, at no additional cost to you.
WISSXOER's WDT Tool is a fantastic investment for espresso enthusiasts seeking a well-built and efficient distribution tool.
Pros
Thinner 10+10 needles made of food-safe stainless steel
Customizable needle count
Aluminum alloy handle with a tidy stand
Cons
Some needles may need adjusting for optimum performance
Sharp needles require caution during use
No included instructions for beginners
The WISSXOER WDT Tool is a high-quality product designed to distribute espresso grinds evenly in order to maximize extraction and minimize channeling.
The 10 included needles are thin and made of food-safe stainless steel, making them perfect for breaking up coffee clumps.
Additionally, an extra set of 10 replacement needles is provided, showing the company's attention to user convenience.
One of the tool's best features is its needle customization.
Unlike many other espresso distribution tools, this one can be easily loaded or unloaded, enabling users to adjust the number of needles used based on personal preference.
The aluminum alloy handle and stand offer durability and a sleek, matte finish.
While the WISSXOER WDT Tool excels in many aspects, some users may find the needle adjusting process to be a bit tricky initially.
Additionally, it's important to exercise caution while using the tool, as the needles are sharp and can cause harm if not handled properly.
Though, beginners might find it challenging to use the tool without clear instructions.
Overall, if you're looking to enhance your espresso-making experience, the WISSXOER WDT Tool is an excellent addition to your coffee bar accessories.
With its customizable needles, durable design, and extra replacement needles, you'll see a noticeable improvement in the consistency of your shots.
MiiCoffee WDT Espresso Distribution Tool
Runner-Up Pick
MiiCoffee WDT Espresso Distribution Tool, with Stand
【WDT Espresso Distribution Tool】Perfect tool to use WDT (Weiss Distribution Technique) to distribute coffee grind evenly in portafilter
【9 Pins Spread Out Strategically】Uses 0.4mm diameter stainless steel needles for perfect combination of rigidity and flex. 9 Pins spread out strategically for efficient stirring. We also give you extra 9 needles.
【3 Magnetic Points】The top of the tools has 3 strong magnetic points that can be attached to any steel surface e.g. steel espresso machine
【Uniform & Efficient Stirring】This WDT tool works really well to keep the coffee grounds from clumping and for a smoother coffee.
We earn a commission if you make a purchase, at no additional cost to you.
Consider the MiiCoffee WDT Espresso Distribution Tool for a simple and efficient way to achieve evenly distributed coffee grounds in your portafilter.
Pros
Effective Weiss Distribution Technique
9 strategically placed, flexible pins
3 magnetic points for easy attachment
Cons
Pins may require slight modification
Pricier than some competitor products
May need practice for optimal results
The MiiCoffee WDT Espresso Distribution Tool is a great addition to any barista's accessories, making the distribution of coffee grounds in your portafilter an easy and efficient process.
The 0.4mm diameter stainless steel needles are perfect for stirring the grounds without causing clumping, leading to a smoother coffee.
This tool comes with 9 installed pins and 9 extra needles, giving you a backup option should you need it.
The pins are spread out strategically, ensuring even and optimal stirring.
The top of the tool has 3 strong magnetic points, allowing it to attach to any steel surface, such as an espresso machine, for easy access and storage.
Although the MiiCoffee WDT Tool is efficient and well-designed, some users have mentioned that they needed to widen the holes slightly to accommodate the larger ends of the needles.
However, it's a minor adjustment you can do with a 1/16 drill bit in just a few minutes. Additionally, while the tool is pricier than some competitor products, its quality makes it worth every penny.
In conclusion, the MiiCoffee WDT Espresso Distribution Tool is an excellent investment for anyone looking to improve their espresso-making skills.
With a little practice and potentially a minor modification, you can master the Weiss Distribution Technique and enjoy consistently smooth coffee.
Jeymei WDT Espresso Tool
This durable and efficient WDT espresso tool by Jeymei significantly improves the consistency of your espresso shots.
Pros
High-quality materials (aluminum alloy and stainless steel)
8-pin needles for even grounds distribution
Easy to clean and compatible with various machines
Cons
Some users report ground clumping
Needles may be too thick for certain users
Slightly heavier compared to other products
The Jeymei WDT Espresso Tool is a top-notch coffee accessory that you'll want to add to your espresso setup.
Made from premium materials, including an aluminum alloy handle and 8-pin stainless steel needles, this well-crafted tool is both durable and rust-proof.
One key benefit of this espresso tool is its ability to evenly distribute grounds for a consistent and desirable espresso shot.
By breaking up clumps and fluffing the grounds, the 8-pin needles do an excellent job of promoting even distribution.
However, some users have noticed that the grounds can get caught between the needles, causing unwanted clumping.
While this issue may affect some users, it's important to remember that the majority of users find it valuable in their espresso routine.
The Jeymei WDT Espresso Tool is compatible with a wide range of espresso machines, making it a versatile addition to any coffee enthusiast's collection.
That being said, some users have noted that the needles may be too thick for certain preferences, so if you prefer thinner needles, you might want to look for an alternative.
Overall, the Jeymei WDT Espresso Tool is a great investment for those looking to enhance their espresso experience.
Its user-friendly design, easy cleaning process, and compatibility with various machines make it a valuable addition to your collection. J
ust keep in mind the potential issues with ground clumping and needle thickness when making your decision.
AIEVE Upgraded WDT Tool Espresso Distribution
AIEVE Upgraded WDT Tool Espresso Distribution Tool
Create Picturesque Espresso Shots - One of the newest trends among espresso lovers has been the widespread adoption of coffee distribution tool. The coffee distribution technique fundamentally involves stirring the espresso puck with extra-fine needles to increase extraction and decrease clumping. When you use espresso tamper WDT well, you cannot only see a decrease in channeling, but all else being equal, your shots should flow a little slower.
High-Quality Material - The whole WDT tool for Breville espresso machine accessories is made of strictly selected food-grade hard plastic, 304 stainless steel needle, BPA-Free, 0.4mm thickened needle, thick texture.
Fusion Design Sense - AIEVE's espresso accessories distribution tool, after fully considering the conditions of normal use, is extremely designed and very user-friendly. Matte black for a comfortable feel, and the WDT tool espresso distributor perfectly with your expensive espresso machine, they're not obtrusive at all and look great!
Additional Fixing Adhesive - In consideration of further integrating the coffee distribution tamper tool with the espresso machine, we provide an additional optional fixed backing. You can also choose a suitable location to fix espresso stirrer tool, such as your coffee work cabinet.
We earn a commission if you make a purchase, at no additional cost to you.
Enhance your espresso brewing experience with the AIEVE Upgraded WDT Tool, perfect for solving coffee clumping issues and a great gift for espresso enthusiasts.
Pros
Creates picturesque espresso shots
Made with high-quality materials
User-friendly fusion design
Cons
Needles may feel too long
Not very strong or sturdy
Lacks a funnel
The AIEVE Upgraded WDT Tool is designed to elevate your espresso shots, making it the ideal choice for coffee lovers.
By using the tool effectively, you'll notice a decrease in channeling and a slower flow, which ultimately results in a better espresso.
Constructed with top-quality, food-grade materials, the WDT Tool is not only reliable but safe to use as well.
The matte black finish gives it a sleek and stylish look, matching perfectly with any espresso machine.
Moreover, the tool's fusion design demonstrates great attention to detail and enhances user-friendliness.
With the additional fixing adhesive included, you can securely mount the tool wherever you find convenient.
While the WDT Tool generally performs well, some users have mentioned that the needles feel too long; this could make it seem susceptible to breaking.
Additionally, others felt that the tool lacked the necessary sturdiness for proper puck preparation.
Lastly, the absence of a funnel means the grounds might spill over when using the tool, which might be a drawback for some users.
In conclusion, the AIEVE Upgraded WDT Tool offers a convenient and efficient solution for espresso enthusiasts looking to improve their brewing process.
With its user-friendly design and high-quality materials, it is a valuable addition to any coffee lover's toolkit.
What To Look For In The Best Tools for Weiss Distribution Technique for Home Baristas
If you're new to WDT tools, then first take a moment to learn what to look for before you go out and buy one.
Understand Your Need
Before diving into specific tools, understand the purpose.
The WDT is about achieving a uniform distribution of grounds to ensure even extraction.
If you're seeing inconsistent shots or channeling, this tool is a game-changer.
Material
Choose a tool made of food-safe material.
Stainless steel is popular, easy to clean, and won't interfere with the taste of your coffee.
Design & Ergonomics
There are various designs on the market. Some have multiple needles, others just one.
An ergonomic handle can make the tool easier to maneuver.
Length & Flexibility
The needles should be long enough to reach the bottom of your portafilter.
However, if they're too flexible, they might not effectively break up clumps.
Versatility
Some tools come with interchangeable heads or adjustable needle settings.
This is ideal for those who like to experiment with different distribution techniques.
Price
Like all coffee tools, there's a range from budget to premium.
While more expensive tools may offer additional features or better build quality, even a simple straightened paperclip can effectively employ the WDT.
Cleaning
Ensure that the tool you choose is easy to clean.
Coffee grounds should be easily removable to ensure no old coffee is mixed with fresh grounds.
Storage
Some tools come with a stand or a case.
This is handy for keeping the tool clean and preventing damage when not in use.
Specialty Tools
Some brands have started producing tools specifically designed for the WDT.
While they might be pricier, they're tailored for the task and often have features like adjustable needle depth.
Final Word
Perfecting espresso is a journey, and while the Weiss Distribution Technique is just one stop along the way, it can significantly elevate the quality of your shots.
Choosing the right tool can make the process easier and more effective, but remember: practice is key.