Wanna explore a world of coffee possibilities beyond the official Nespresso range of coffee pods?
Prepare to be amazed by the exciting realm of third-party Nespresso VertuoLine capsules!
We've got some favorite third party Nespresso Vertuoline compatible capsules that we wanna tell you about before you make that next cuppa.
In this article, we'll guide you through the enticing advantages of these alternative capsules and introduce you to a few standout brands that are making waves in the coffee community.
So, grab your favorite coffee mug and join us as we embark on a caffeinated journey to discover the hidden gems of the Nespresso VertuoLine universe!
Third-Party Nespresso VertuoLine Capsules: The Allure of Alternatives
As you dive into the world of third-party Nespresso VertuoLine capsules, you'll quickly realize the myriad benefits they offer.
From affordability to sustainability, these capsules bring a fresh perspective to your Nespresso experience:
Budget-Friendly Brews: One of the most compelling reasons to venture into third-party Nespresso VertuoLine capsules is their wallet-friendly nature. Often priced lower than their official Nespresso counterparts, these alternative capsules enable you to enjoy a diverse range of coffee flavors without breaking the bank.
Flavor Frenzy: Third-party Nespresso VertuoLine capsules open the door to a plethora of coffee profiles and blends, allowing you to experiment with flavors and intensities that may not be available in the official Nespresso range. It's a coffee lover's playground, just waiting to be explored!
Sustainability Stewards: Many third-party capsule brands prioritize eco-friendliness, offering biodegradable or reusable options that minimize environmental impact. By choosing these sustainable alternatives, you can indulge in your daily coffee ritual while contributing to a greener planet.
Best Third-Party Nespresso Vertuo Capsules
Want to know what we like to drink in our Nespresso Vertuo machine?
It's the ones from Starbucks!
Starbucks by Nespresso Blonde & Medium Roast Variety Pack Coffee (32-count single serve capsules, compatible with Nespresso Vertuo Line System)
Enjoy the authentic Café taste of Starbucks coffee at home like never before on Nespresso Vertuo machines. Made with the finest quality Starbucks coffee that you know and love, Starbucks by Nespresso capsules are developed with Nespresso to work perfectly with the Vertuo system and are fully recyclable. This variety pack includes 2 boxes of Starbucks Pike Place Roast and 1 box Each of single-origin Colombia and Veranda blend. Each precision-brewed Starbucks coffee is made with 100% Arabica coffee beans. Bring home the taste you love. Pike Place is a registered trademark of the Pike Place Market PDA, used under license.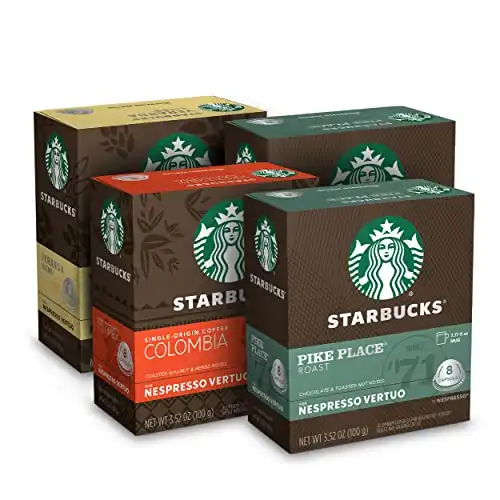 We earn a commission if you make a purchase, at no additional cost to you.
Best Reusable Nespresso VertuoLine Capsules
If you want to save money, be eco-friendly, and customize your coffee, then you need reusable Nespresso VertuoLine capsules!
There are few different of these on the market, but we've got our favorite.
We earn a commission if you make a purchase, at no additional cost to you.
The Nespresso VertuoLine Capsule Alternative Brands to Watch
Now that you're well-versed in the benefits of third-party Nespresso VertuoLine capsules, let's introduce you to a few standout brands that are taking the coffee world by storm:
Gourmesso: Known for their impressive range of Fairtrade-certified coffee and competitive pricing, Gourmesso offers an enticing selection of Nespresso VertuoLine-compatible capsules. From bold, intense blends to delicate, nuanced profiles, Gourmesso's coffee offerings cater to every palate.
HiLine Coffee: Another brand making waves in the third-party Nespresso capsule scene is HiLine Coffee. With a focus on fresh, high-quality coffee sourced from small, sustainable farms, HiLine's Nespresso VertuoLine-compatible capsules deliver a truly exceptional coffee experience that won't disappoint.
Sealpod: If you're on the lookout for a reusable option, Sealpod is the answer. These stainless steel capsules are compatible with Nespresso VertuoLine machines and are designed for long-lasting use. Simply fill the capsule with your favorite coffee grounds, brew, and enjoy a sustainable, personalized coffee experience.
Artizan Coffee Co.: A game-changer in the world of Nespresso VertuoLine-compatible capsules, Artizan Coffee Co. is committed to delivering an extraordinary coffee experience steeped in sustainability and quality. Their lineup of USDA-certified organic, Fairtrade, and Rainforest Alliance-certified coffee blends will tantalize your taste buds while also supporting ethical and eco-friendly practices. With a focus on freshness and small-batch roasting, Artizan Coffee Co. offers an unparalleled coffee adventure that you can feel good about supporting. So, get ready to savor the intoxicating aroma and robust flavors of their Nespresso VertuoLine-compatible capsules — you won't be disappointed!
Roastesso: Step into the world of Roastesso and discover a treasure trove of Nespresso VertuoLine capsule alternatives that are sure to impress even the most discerning coffee connoisseur. Roastesso prides itself on sourcing the finest specialty-grade coffee beans from sustainable, family-owned farms around the world. Their Nespresso VertuoLine-compatible capsules are packed with exquisite blends that showcase the unique characteristics of each coffee's origin, providing you with an authentic, farm-to-cup experience. Not to mention, Roastesso's capsules are fully recyclable, allowing you to indulge in their mesmerizing coffee creations without compromising on environmental responsibility. So, go ahead, take the plunge into Roastesso's alluring coffee universe — it's a caffeinated journey you won't soon forget!
Final Word
By venturing into the world of third-party Nespresso VertuoLine capsules, you're opening yourself up to a realm of coffee possibilities that extend far beyond the official Nespresso range.
From budget-friendly brews to eco-conscious capsules, these alternative options allow you to tailor your Nespresso experience to your unique tastes and values.
So, why not take the plunge and embark on a Nespresso VertuoLine capsule adventure?
Explore the diverse offerings from third-party brands, and discover new coffee flavors and experiences that will leave you wondering how you ever lived without them.