Anyone who drinks beer on the regular knows that it takes several beers just to start feeling tipsy.
Beer just isn't known for having a high alcohol content, or Alcohol By Volume (ABV).
But here's the thing – there actually are some beers that have a high alcohol content.
So, if getting drunk as fast as possible is what you're all about, then we've got some beers for you to start chugging.
As you seek out some of the high ABV beers, just remember to drink responsibly.
High Alcohol Content Beer List
If you just want that at-a-glance look at the beer with the highest ABV percentage, then this table lists them out by highest alcohol content to lowest.
Below, we'll look at each of these high ABV beers.
1. Brewmeister Snake Venom
If you're interested in drinking the strongest beer in the world, then look no further than Brewmeister Snake Venom.
Just one 12-oz bottle of this beer clocks in at 67.5% ABV.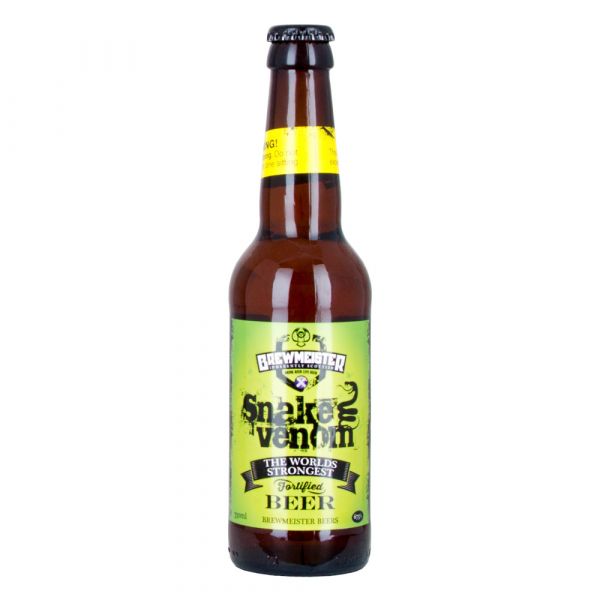 Needless to say, this is not for the weak of heart and you seriously need to be prepared for a really boozy beer.
It's also quite expensive at close to $50 per bottle.
We recommend that you pace yourself and enjoy Snake Venom in 35ml measures.
Featured on LADbible and UNILAD, Snake Venom is one of Keith Brewery's most sought after beers. The fortified beer has a smooth taste and lacks carbonation due to its high ABV.
2. Brewmeister Armageddon
Coming at you from the same brewery is the second highest alcohol content beer, this time it's the Brewmeister Armageddon.
Just one 12-oz bottle of this beer clocks in at 65% ABV.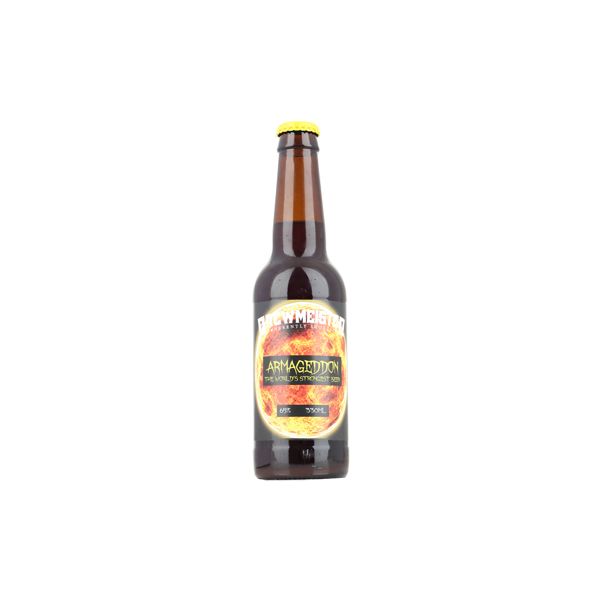 This one is actually more drinkable than the Snake Venom as it has a smoother taste.
Ingredients include crystal malt, wheat, flaked oats and 100% Scottish spring water.
Peaty in aroma and malty in taste, this beer should be treated like a fine whisky.
Unfortunately, though, this one has been discontinued. So, good luck finding a bottle!
3. Schorschbräu Schorschbock 57%
If you like to drink German beer, then this right here is the highest alcohol content German beer that you'll find.
Just one 12-oz bottle of this beer clocks in at 57% ABV.
The price for this one is more reasonable that you might expect, with a cost of around $40 for one 12-oz bottle.
This amber ale has a pleasing taste with fine caramel and cherry cognac notes.
4. Schorschbräu Schorschbock 43%
If you though the price of the Brewmeister Snake Venom was shocking, then you won't believe how expensive this high ABV German beer is for just one bottle.
You'll spend more than $70 for one bottle of Schorschbräu Schorschbock 43%, which clocks in at 43% ABV.
This amber ale doesn't take like any other amber ales you've tasted. It has a bit of a fruity taste with a tart finish.
The German brewery makes less than 500 bottles of Schorschbräu Schorschbock 43% each year, so they are a bit of a collector's item.
5. BrewDog Sink The Bismark
The second Scottish brewery on this list, the BrewDog Sink The Bismark is a great imperial IPA that packs a punch.
Just one 12-oz bottle of this beer clocks in at 41% ABV.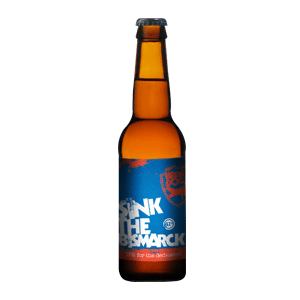 This beer has a strong hop flavor and a bit of spiciness.
A full out attack on your taste-buds ensues as the incredibly smooth liquid delivers a crescendo of malt, sweet honey, hop oils and a torpedo of hop bitterness which lasts and lasts.
6. Baladin Esprit de Noel
This Italian beer is a real surprise in your mouth, and not really what you expect to come out of Italy.
Just one 12-oz bottle of this beer clocks in at 40% ABV.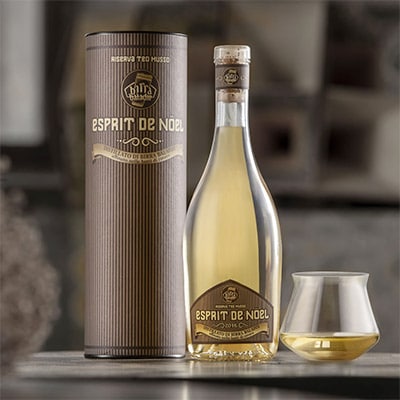 The color is a bright straw yellow; the scents reveal the warming alcohol content and a distinctive smoothness.
The taste confirms this smooth character and is supported by gentle notes of wood and faint, but distinctive hints of chocolate.
7. Sam Adams Utopias
If you want to drink an American beer with the highest alcohol content, then look no further than Sam Adams Utopias.
Just one 12-oz bottle of this beer clocks in at 29% ABV.
This is a limited edition beer, and it has the price tag to prove it. The retail price is $210, but expect to pay more than that, if you find a bottle.
7. Evil Twin Brewing Molotov Heavy
Formerly known as the Evil Twin Brewing Molotov Cocktail Heavy, the Evil Twin Brewing Molotov Heavy beer is an Imperial IPA with a punchy flavor.
Just one 12-oz bottle of this beer clocks in at 17.2% ABV.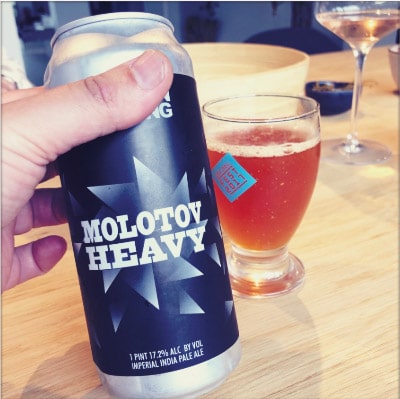 Overall, it's an explosion of flavor when it hits your tongue.
This is the perfect entry level beer to start your high alcohol content beer adventures.
What's The Strongest Beer in the USA?
If you're only interested in American beers and high alcohol content beers that you can find in the USA, then we've got your back.
The Samuel Adams Utopias are the strongest beers in USA with a 29% ABV.
Of course, those Samuel Adams Utopias are crazy expensive. So, here's some cheaper options to get you started:
Bruery Black Tuesday: 19.5% ABV
Dogfish Head 120 Minute DIPA: 18-20% ABV
What's the average alcohol content in beer?
The average ABV of beer is just 5%. This shows you just how high the alcohol content is for the beers on our list above.
Here are some popular beers with 5% ABV:
Stella Artois
Budweiser
Heineken
Coors Banquet
Anything under 5% ABV is considered a light beer. For example, Bud Light has 4.2% ABV and Corona Light as 4.1% ABV.