While black coffee is the go-to choice of several coffee enthusiasts, many coffee lovers enjoy coffee better with extra flavor. 
If you want to jazz your coffee up, coffee syrups might be your best choice.
Put simply, coffee syrups are concentrated coffee flavors for flavoring your coffee.
These syrups are available at your local grocery, and, of course, at various cafes near you. 
You can choose from a variety of syrup flavors, such as caramel, vanilla, chocolate, peppermint, hazelnut, butterscotch, and coconut.
Let's talk a little more about coffee syrups.
Popular Coffee Syrup Brands
While there are a lot of coffee syrups on offer at Amazon and your local store, a few brands stand out from the rest.
Below we'll cover the more popular brands out there.
Torani
Torani tops the list of popular coffee syrup brands.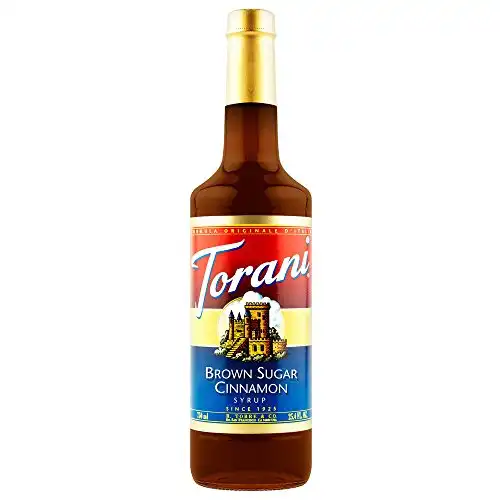 Since 1925, this San Francisco business has been serving delicious coffee syrups.
In fact, Torani created the world's first flavored latte. 
Torani started with just five syrup flavors.
Today, you can choose from over 100. 
Their classic flavors include caramel, French vanilla, vanilla, and hazelnut.
Da Vinci
The Seattle-based Da Vinci brand is known for its natural coffee syrups.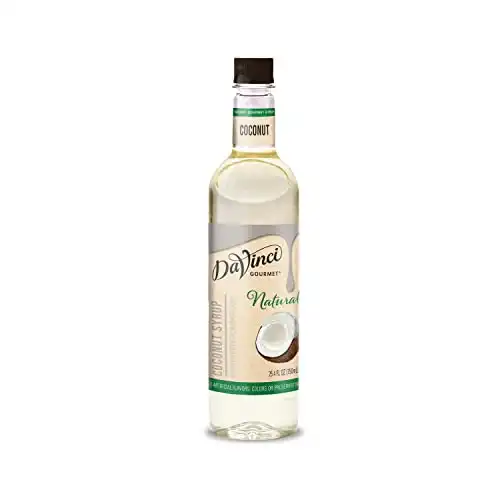 Yes, you got that right. 
They use natural ingredients, including real botanical extracts. 
If you enjoy coffee with a little sea salt, you would love DaVinci's Hawaiian Salted Caramel flavored syrup.
Jordan's Skinny Syrups
Do you like your coffee sugar-free?
With Jordan's Skinny Syrups, you can enjoy your favorite coffee minus the calories.
These coffee syrups (from Jordan) are also gluten-free and kosher. 
Monin Coffee Syrups
Monin has been selling naturally flavored syrups since 1912.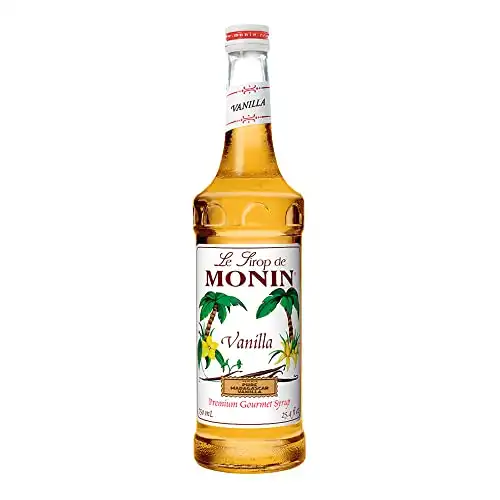 This family-owned business has a wide range of syrup flavors, such as lavender and chipotle pineapple.
They also have a sugar-free range of coffee syrups. 
And, if you're looking for organic or non-GMO coffee syrups, then know that Monin has a great selection for you.
What Brand Of Syrup Does Starbucks Use?
Starbucks sells three types of coffee syrups- Naturally Flavored Caramel Syrup, Naturally Flavored Vanilla Syrup and Naturally Flavored Hazelnut Syrup.
You might be wondering what coffee syrup Starbucks uses?
No more secrets! Starbucks has partnered with Fontana for its coffee syrups.
 In 2018, Starbucks joined hands with Nestle.  
And for all you information seekers, Fontana is owned by Nestle.
A little trivia never hurts, doesn't it? 
So, the next time you sip on Starbucks coffee with their premium-filled flavored syrup, you can share this information with your friends!
Who Makes the Coffee Syrup for Cafes?
Da Vinci, Monin, and Torani are the top three retail suppliers of coffee syrups to cafes across the United States.
So, the next time you visit a local coffee shop, look behind the counter and you'll likely see on of these three brands on the shelf or being used by the baristas.
How Many Calories are in Coffee Syrups?
If you're calorie conscious, then you may be wondering how the calories stack up for coffee syrups.
One thing to keep in mind is that one pump of coffee syrup is the equivalent of one tablespoon of the liquid sweetener.
On average, that is around 40 calories just from the one pump, or one tablespoon of coffee syrup.
So, you may want to go easy on the pumps when you're adding this to your coffee.
How to use Coffee Syrups at home?
The easiest way to use coffee syrup is to add it to hot water. 
Alternatively, you can add a few drops of syrup to a cup of coffee.
Here's a chart to help you know how many pumps of syrup to use in your coffee, or how many tablespoons if your bottle of coffee syrup doesn't have a pump.
| | | |
| --- | --- | --- |
| Coffee (in ounces) | Pumps | Tablespoons |
| 16 | 4 | 2 |
| 12 | 3 | 1 1/2 |
| 8 | 2 | 1 |
Vanilla coffee syrups go well with almonds.
You can add one or two pumps of vanilla flavoring, one pump of almond flavoring, and almond milk to two shots of espresso.
And voila, you have your delicious almond vanilla iced coffee ready.
If you love caramel in your coffee, you can add two pumps of caramel flavoring syrup and one pump of brown sugar cinnamon flavoring in two shots of espresso to make an aromatic cup of caramel coffee.
Finally, you can't go wrong with hazelnuts. 
Hazelnut coffee syrups are a great addition to your coffee.
You can make hazelnut mocha by blending ice with three pumps of hazelnut syrup, two pumps of chocolate sauce, a cup of brewed coffee, and a little heavy cream.
Top this delicious drink with some whipped cream and chocolate sauce.