The secret to a cocktail that packs a punch of flavor, lies in how well the flavors have been extracted.
The trick, as any good bartender will tell you, lies in giving the ingredients a nice, strong bashing, like you'd do with a pestle in the kitchen.
That's what muddling is all about.
Essentially, a cocktail muddler is a bartop pestle, specially designed to break down fruits, herbs or spices so that their aromatic compounds are released and infused into the cocktail.
Whether you're making a mojito, a classic old-fashioned or a caipiroska – you will need a solid muddler at hand.
Best Cocktail Muddlers for Home Bartenders
What Is a Cocktail Muddler?
One of the essentials of cocktail-making, a muddler is a long, stick-shaped tool, usually with a special, flattened base that is used to muddle or gently crush ingredients while building a cocktail.
What Does a Cocktail Muddler Do?
A cocktail muddler is the silent hero behind some of the most flavorful cocktails you've ever tasted.
Muddling releases aromatic compounds much better than grinding or chopping.
Sure, a nice curl of orange peel looks beautiful as a garnish, but if you want your cocktail to unveil that beautiful citrus aroma, you're going to have to muddle the peel before you add it to the shaker.
Chopping doesn't extract as much flavor out of ingredients like lime and mint, and grinding them results in an overpowering flavor that ruins the taste of your cocktail.
Muddling does neither and makes sure you get the most balanced flavor from your ingredients.
Types of Cocktail Muddlers
Cocktail muddlers are made from different materials like stainless steel, plastic or wood, and are usually long enough to be held comfortably while muddling.
Some muddlers are shaped into a flat base at the bottom, while others, particularly those made of steel have an attached head made of a synthetic material like nylon.
Essentially, the base of the cocktail muddler determines how much of the ingredients it covers while muddling and the body helps you put pressure on the herbs or fruits you're crushing.
How to Choose a Cocktail Muddler?
These are the three things you need to look out for while choosing the right cocktail muddler for your bar.
Material
Cocktail muddlers are available in wood, plastic or stainless steel.
Each of these materials has its pros and cons.
For instance, wooden muddlers, which have been the most popular, are great but they need to be washed and dried immediately to stop them from spoiling.
Plus, there's always a risk that the lacquer or polish on a wooden muddler may bleed into whatever you're muddling, not only making your drink taste horrible, but also risk chemical poisoning.
Plastic muddlers are super easy to clean, but may not be able to hold up well when it comes to serious muddling.
Pick a muddler that you won't regret buying, or even worse, stow away because it is a pain to clean.
Durability
Stainless steel cocktail muddlers are usually the sturdiest, followed by wood and plastic.
Wooden muddlers do hold up well against bashing, but one splinter or crack, and you not only risk water seepage into the wood but also particles of wood in your drink, which isn't a particularly great idea.
Budget
Last of all, cocktail muddlers come at all prices, from those under $5 to ones that go above $15.
Unlike a shaker or jigger, a muddler isn't particularly noticeable, so it doesn't really matter how good it looks.
Unless you're an absolute stickler for aesthetics, pick a muddler that does a good job without making you spend too much.
Best Cocktail Muddler Reviews
Here are some of the best cocktail muddlers, shortlisted for you. Go on, muddle things over.
Mojito Muddler Wooden Muddler
From a brand that is synonymous with mojito muddlers, this is a beautiful wooden cocktail muddler that's truly built for cocktail connoisseurs.
A favorite with bartenders and beginners alike, this muddler has a flat base and a generous length that allows you to comfortably hold it while bashing even fruits.
Unlike cheaper wooden muddlers that are coated with lacquer or polish, this one promises to muddle your drink safely and effectively.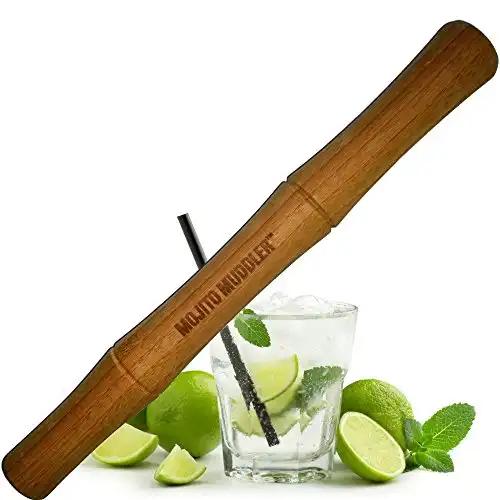 We earn a commission if you make a purchase, at no additional cost to you.
Pros
High-grade wood makes it durable and sturdy.
No cheap polish or lacquer.
Effectively muddles ingredients to extract maximum flavor.
Elegant wooden finish makes it a great bar top accessory.
Comes with a free mixing spoon, making it a set.
Cons
Very expensive compared to some models.
Where to Buy
Here's where you can buy this – at Amazon.
Verdict
For the money, this is by no means a cheap or even affordable cocktail muddler.
Bartenders, however, swear by high-quality wooden muddlers and claim that it is indeed the cheap ones that come with terrible quality, spoiling the taste of your cocktail.
So if you have your heart set on being a professional bartender even when it comes to handling your bar at home, go ahead and buy this piece – not only will it add oodles of flavor to your drink, it will also be a statement addition to your barware collection.
Decodyn Cocktail Muddler
There are too many things to love about this thoughtfully-designed cocktail muddler from Decodyn.
First, there's the stainless steel body which makes for a strong grip, followed by the unique grooved head that thoroughly mashes up fruits, spices or herbs for maximum flavor.
We earn a commission if you make a purchase, at no additional cost to you.
Pros
Strong, sturdy stainless steel can withstand bashing and muddling.
Does not impart any flavor to your drink, unlike wooden muddlers.
Specially designed nylon head provides perfect pressure.
Budget-friendly.
Dishwasher safe, and easy to clean by hand as well.
Cons
Water gets between the nylon head and stainless steel body.
Where to Buy
You can buy the Decodyne cocktail muddler at Amazon.
Verdict
For the money, this cocktail muddler definitely scores high on style, utility and value for money.
Make sure you clean it well, and you won't need a new muddler for the next few years.
OXO Steel Muddler
This is a cocktail muddler for those who really love their muddled cocktails.
Manufactured by OXO, a brand well known for its great kitchen and barware products, this is a sturdy tool that bashes up your ingredients gently but effectively, to release their full flavor.
Easy to grip and hold, this cocktail muddler will help you get the most out of your lime wedges and mint leaves, each time.
We earn a commission if you make a purchase, at no additional cost to you.
Pros
Made of high-quality die-cast zinc.
Nylon head protects glasses from pressure.
Soft, comfortable grip.
Dishwasher safe.
Cons
Expensive as compared to other muddlers.
Where to Buy
The OXO cocktail muddler is available for sale online at Amazon.
Verdict
For the money, this cocktail muddler definitely seems overpriced.
But, if you're looking for a good looking piece of barware that does the job then you shouldn't look further than this!
Final Word
With the right cocktail muddler, you'll never be left with a disappointing, watery-tasting cocktail again.
Plus, you'll eventually gain enough confidence to work with bolder, more vibrant flavors, and make cocktails that leave your guests spellbound and soul-quenched, every single time.
top image: bogdan.hoda (Deposit Photos)