In recent years, home wine making starter kits have increased in quality making it easy for a newbie to create a masterpiece.
You might find it hard to believe, but you can actually create a wine that closely resembles a Pinot Noir with a wine kit.
You need a bit of experience with it, the right ingredients and the right kit. And how do you find the right kit?
By reading below about the best ones available right now.
Picks: Best Wine Making Starter Kits
1. Deluxe Wine Making Kit
If you want to take your home wine making seriously, and don't mind spending a bit of cash on this new hobby, then definitely begin your search for a starter kit with this one.
It is high quality at a reasonably affordable price for the home wine maker.
Learn to Brew LLC prides itself with this kit calling it "a high quality and durable wine kit". Now they say they offer more equipment than other kits which claim to be deluxe – I agree but I would have liked to see everything that was needed to start making wine in this kit and this is not the case.
Vintner's Best Deluxe Wine Equipment Kit - 6 Gallon Glass Carboy
Contains: 7.9 gallon Fermenter with drilled and grommeted lid, 6 gallon glass Carboy, winemakers recipe handbook
Easy clean no-rinse cleanser, double lever Corker
30 - 8 x 1-3/4 corks, 24Plastic Spoon, triple scale hydrometer, econolock, drilled Universal Carboy bung
5 feet Siphon tubing, fermtech Auto Siphon combination bottle filler, bottle brush, equipment instructions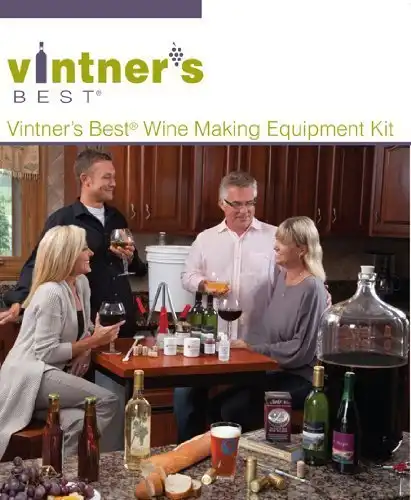 We earn a commission if you make a purchase, at no additional cost to you.
You will still need to buy bottles (I recommend you get 30+), more corks (some are included but it's a good idea to have more), another 6 gallon carboy so you can siphon the end product from one carboy to another and a wine kit.
All things considered, this wine making kit is durable and definitely worth the money. Is it the best wine making kit for the money? Probably not, especially if you're not certain that you will stick with this hobby. But if you plan on sticking with it, then it is a good investment.
2. Wine Making Equipment Kit – Glass 3 Gallon
Looking to get started making wine at home but don't want to spend a lot of money on this new little hobby? Well then, this wine making starter kit for beginners is just what you need!
We earn a commission if you make a purchase, at no additional cost to you.
I like this kit because it has a 3 gallon carboy instead of a 6 gallon one and at first you need to work with smaller ones just to see how things should be done from start to finish. You can upgrade to a bigger carboy later.
This is a complete set which means you can start making wine immediately and it is cheaper than the first kit. Not as durable, but still worth the money you pay for it.
Overall, I would say that this is the best beginner wine making kit for the money because it is the perfect combination of low price and high quality. And that is just right for beginners.
3. Ultimate Wine Making Equipment Starter Kit with 6 Gallon Glass Carboy
Oh boy, this is a heck of a wine making set right here, at least when it comes to the high price tag!
This is one of the most expensive wine kits out there and I don't understand why it is so expensive – it doesn't offer anything more than the rest, although it has everything you need to start.

We earn a commission if you make a purchase, at no additional cost to you.
The people that have used this are very happy with their purchase (that's the reason why I've even included it in this list) but it still feels expensive to me.
Sure, you get everything that you need to start making your own batches of wine at home. However, you can do that with the other kits and spend a heck of a lot less on it.
If you buy this one, I would love to know what you think makes it so expensive compared to the other kits.
4. Premium Wine Making Equipment Kit – with Auto-Syphon
This is another starter kit with a high price tag that I just cannot justify for myself, but still might interest you since it is a high quality option.
We give it a 4.5 rating because it is not a complete kit and is a bit on the expensive side.
We earn a commission if you make a purchase, at no additional cost to you.
If this kit was complete and a bit cheaper, then it would have been great. As it stands it's nothing to be excited about. However, people who own it do seem to enjoy it.
With that in mind, take a chance and look it over to see if it meets your needs. Who knows, you might not mind the price and the kit could be perfect for you!
5. Starter Winemaking Equipment Kit
Again, an incomplete kit with a reasonably high price tag that might not be the best choice for a lot of people.
You will need to buy pretty much everything that was needed for the other kits, so more money needed to get to that bottle of wine.
We earn a commission if you make a purchase, at no additional cost to you.
That being said, owners of this kit have only good things to say about it. You definitely get high quality equipment for the money, and if you buy up everything else that you need, then you can make some good bottles of wine at home.
For me, the price is just too high, but it might fit into your budget. So, take a look at it and see if this kit is the one for you.